As many of you know, my son Kyle was killed January 31st by an impaired driver just a few minutes after we departed for home from a glorious 8 day father-son road trip to Key West and the Florida Keys. I was headed to Columbus and he was going back home to Austin, Texas, only 15 minutes or so behind me.
Six or more people rushed to Kyle's aid after the collision (estimated to be in excess of 120mph) and stayed until the ambulance left. According to the Baldwin County District Attorney, it is very unusual to have that many people stop, make heroic efforts and stay till the end. I have thanked six on the phone and become FaceBook friends with five of them. Am looking forward to meeting Steve Hogue and Toni Jumonville in person some day soon. I got to meet two of these angels on a recent trip to Baldwin county – Nathan Smith, a talented actor, stunt-double, and man of many talents, and Harry Sudduth and his fiancé Debbie. When Harry got there everyone was shouting "we can't get him out." Harry crawled into the burning vehicle and cut Kyle free, just in time.
I talked with Harry and Debbie for over an hour and it was wonderful! When we got up from the table there were hugs all around. Harry grabbed my left hand, reached into his pocket and said "My daddy always said never be without a knife, and I want you to have this" and placed the knife in my hand. It was an overwhelming moment.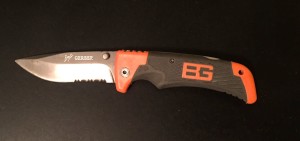 Kyle, an intrepid turtle rescuer, wildlife EMT, and roadway samurai was noted for doing emergency U-Turns to assist people he didn't know. I like to think that Kyle's energy summoned these angels and heroes. I am truly blessed to know these folks.