INTRODUCTION TO THE FLATTSIE SISTERS
In 1964 Jeff Brown wrote a children's book called Flat Stanley about a little boy who is "flattened" by a bulletin board hitting his bed. He adjusts to being paper-thin and begins some wonderful adventures. In 1995 Dale Hubert began the Flat Stanley Project on the web.  Children send a flat visitor to a school, a celebrity, a family member, etc. and the recipient takes the flat (paper) person on adventures. He is sent back, along with a completed journal and photos.
Several years ago I did a similar project for my two granddaughters – Clara and Francesca when they were seven and five respectively. From a manila folder, I cut out two (co-joined) paper dolls and mailed them to the girls. They colored them and sent them back.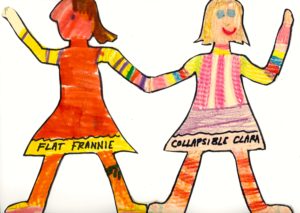 From that point I took the "Flattsie Sisters" – Flat Frannie and Collapsible Clara, on a series of adventures, wrote about it from a 4 year-old's perspective and took photos. I would mail an adventure to the girls when I had completed one.
This is a great activity that kids really seem to enjoy. I hope you enjoy these little stories as well.
EPISODE #1 – ARRIVING AT PAPA'S HOUSE
Yaaay. We arrived at Papa's house today in Georgia. But right after the mailman drove away, a giant mailbox spider came up to see what was going on. We were very frightened, but Papa heard our wee tiny voices and came out to rescue us. He talked very nicely to the spider, who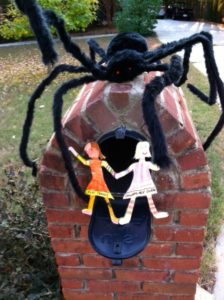 became ashamed of scaring us and slinked off to his hidey hole. He was very scary and had red eyes. We think it is from staying up all night.
Now we are inside and cozy, having a nice foamy mug of hot chocolate. Papa says to not drink it too fast cause we could get soggy (being made of paper and all).
We will write home each time we have a new adventure. We miss you already but we're having fun.
Love,
the "Flattie Sisters"