FICKLING'S MILL
Once I roamed twenty-eight counties of the rolling hills and old growth forests of west central Georgia, begging physicians and other healthcare providers to host students for their clinical training. Close to a quarter of a million miles were logged over a 14 year period and I ended up convincing over 1,000 docs, dentists, nurses and pharmacists to serve as preceptors (supervising physicians). They hosted students from Emory, Mercer, the Medical College of Georgia, Morehouse and medical, nursing and dental schools across the land.
Although being on the road was necessary to accomplish my mission, I none-the-less grew bored using the same routes and began to explore different ways to get to the same small communities. I ended up being very familiar with about every county and country road in my area. There is some beautiful scenery in this region, like Sprewell Bluff in Upson county and High Falls in Butts county. So too, interesting places abound like the Red Oak Creek Covered Bridge in Meriwether county near Woodbury, a Horace King bridge. Throw in the Pine Mountain Trail in Troup and Starr's Mill in Fayette county and you've got yourself a full slate.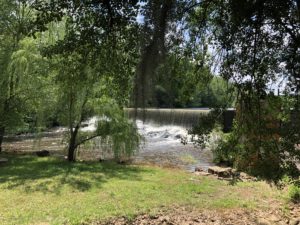 Lately, since I have hit the three-quarters of a century mark, I have tried to focus on slowing down (ha, ha, ha) and being "in the moment." So that was one of the reasons when Fickling's Mill dam flashed by in my periphery, I went on about two miles and decided to double back to check it out. In all those fourteen years I had allowed it to simply flash by, always in a rush to get to the next place. The site is on Patsiliga Creek at the intersection of Georgia 137 and 208. I parked and noticed a man who seemed to have already succeeded in "being in the moment." Doffed with a straw hat and wielding a rake, he seemed lost in reverie.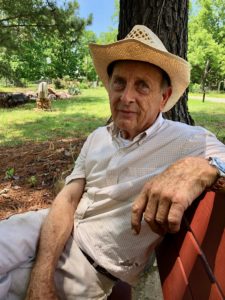 I strolled over and asked if he knew the story of the place. He replied, "I was about to take a break. Let's go sit a piece on that bench over yonder and we can talk about it." Turned out he was the owner, so Mr. Edward Benns treated me to some wonderful tales and told the story of the mill. It was named after Dr. Fickling, an early settler and Civil War veteran who founded the site. Although various names have been used (Fickling, Fickling's Mill, Ficklin's Mill and Flickins Mill), Fickling's is corect. A Fickling post office was established in 1887 and remained in operation until 1903. Mr. Benns gave me a postcard showing a 1 cent stamp required.
When the dam was built, an unusual mechanism was put into place. A portion of the water was run through a pipe at the top of the dam that connected to a concrete tower. At the bottom of the tower was a paddle which turned under the force of the water. At the top of tower was a gear that converted the vertical motion into a horizontal motion and that energy was transmitted through a long pipe to a mill building which is no longer in existence. I think originally the mill processed cotton but was later converted to a grist mill as there are several grinding stones around the property.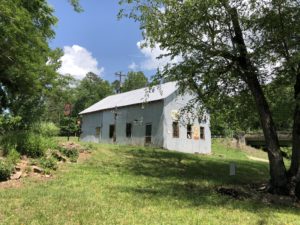 One great piece of the puzzle I did not know was the site's connection with famous American naturalist William Bartram.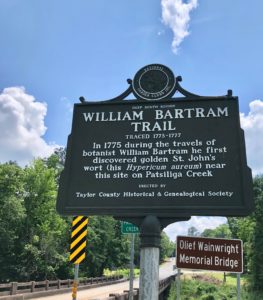 Born in Philadelphia in 1739, he accompanied his father on many travels around the original colonies and soon grew interested in botany. As early as his mid-teens he was noted for his excellent drawings of birds and plants, much like John James Audubon, the American ornithologist, naturalist and painter.  In 1773, he embarked upon a four year journey through eight southern colonies, taking note of the native species of animals and plants. Bartram came through lands now consisting of Taylor county in 1775 and discovered a golden variety of St. John's Wort (his hypericum aereum). Mr. Benns showed me some growing wild, along with some other interesting and unusual plants.
Mr. Benns told me to take my time and enjoy the solitude as long as I wished and I am grateful for his time and hospitality as well as the stories. The peacefulness of the place prompted this little poem which popped into my head about 3 this morning.
For grace and quiet solitude, to let your heart be still,
There are fewer ways to find such peace, than to sit at Fickling's Mill.
Steve Scott, 2018