I had a most interesting and unique experience last night. Was invited to "The Dot" (Springer's Dorothy McClure Theater) to attend the first reading (for Columbus) of Topher Payne's new hit play, Perfect Arrangement. Got to hobnob in the lobby with some fascinating folks, nibble delectable goodies and overhear lively conversations.
The cast for the Springer Theater's production was assembled on the stage at long tables, This was the first time they had been together. After an introduction by Paul Pierce, Topher gave a quick background for the play.
I guess I expected a soporific mouthing of each character's part as they mumbled through their parts but was treated instead to a full blown "play minus the scenery." The richness, timing, and emotion were superb and I sat there speechless (very rare state for me). It was so well done that it could have been the dress rehearsal and I wouldn't not have been disappointed.
The plot is tha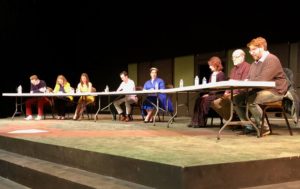 t two gay couples have devised an intricate charade to cover a life-style that in the 1950s was not just unspoken but actually against the law. The two male stars are companions and the two female stars also. They are publicly married as two very midstream heterosexual couples but behind the scenes continue their secret private lives. They find a duplex apartment which allows their "duplicity" to flow unhindered through the clever use of a secret closet passage. The closet is key to the plot as a comedic bit and metaphorically.
One man and one woman work for the US Department of State during a time when communists were believed to be behind every tree. The so-called "Lavender Scare" was a witch hunt style government directive that had ordered the ferreting out employees of "deviant behavior" (read Gay) who were believed to be susceptible to blackmail and as such, security risks.
At first extraordinary humor rendered by perfect comedic timing elicited uncontrolled belly laughs from the audience and I thought this will be one great comedy. But the mood abruptly turns tense and the rest of the play focuses on the angst of not just protecting their life styles but the conflict between their dreams or taking the higher road to long term social change.
At first I thought the move from humor to intense drama was odd but this really lends itself well to the energy and message of the play. And, as playwright Topher (who will also serve as director for this production) points out, Southerners have a unique ability to handle both humor and drama in the same mix. Topher is a prolific playwright who has done several Hallmark movies and this play won the American Theatre Critics Association 2014 Elizabeth Osborne New Play Award for an emerging playwright.
This play is powerful and enduring. I strongly feel that it will become an iconic and worthy addition to the most memorable bodies of theatrical work of our time. But don't take it from me, a decidedly unqualified theater critic. You owe it to yourself to experience it