ADVENTURES OF THE FLATTSIE SISTERS
EPISODE #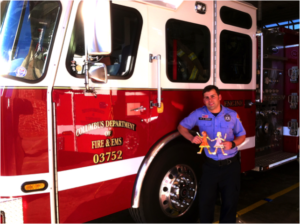 8 – THE FIRE STATION
We had a very exciting day today when Papa took us to a big giant Fire Station in Columbus! He introduced us to a very handsome fireman. Frannie thought he was a Movie Star. They are called firefighters too.
This is the main station in Columbus, Georgia and it is very big and high too like a monster cave. They had all kinds of trucks and stuff – regular fire engines that pump water on a fire; ladder & hook trucks that can go around corners better, a tower truck that has a long ladder thingy that can reach up very high into the sky and shoot water down onto a fire. The nice fireman even pressed the button for the fire truck noises for us and it was lots of fun. It went whooooo-eeee, brammmp, brfffftp, honk, weoooooooow, eeoo, eeoo and booop! We liked that part the best.
They also had an ambulance there too because the firefighters in Columbus have to be Emergency Medical Technicians too. Frannie started doing her "Goo Goo Eyes" thing at the fireman so Papa said it was time to go.
Love,
the "Flattsie Sisters