ADVENTURES OF THE FLATTSIE SISTERS
EPISODE # 6 – A VISIT TO WOLF BAY
Papa took us on a journey to Baldwin county on the Alabama Gulf Coast and we stayed at his sister's house. It is very beautiful and right on the water at Wolf Bay. He stuck us to a pine tree for a while so we could see the pretty flowers and feel the gentle breeze.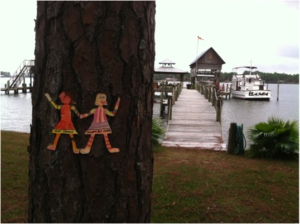 Later, we sat on their pier and sang "sitting on the dock of the bay, watching the tide roll away." We must have sounded good because some dolphins came by and it looked like they were smiling. But maybe they look like that all the time. We like to hear Papa sing because he has a deep bass voice.
The next day he took us to his hometown of Fairhope and we met some of his friends. We really liked Mr. Dennis (Gray) because he was sweet to us and sang The Mermaid of Ontario just for us.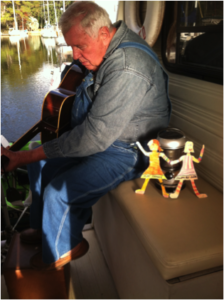 Later he played his backyard tuba fo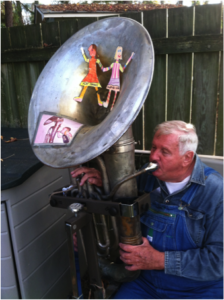 r us.
It sits in the back yard because there is no room on his houseboat. He says the tuba likes it out there because it gets to hear the birds and it makes him happy. Papa taped us to the bell of the giant horn and we buzzed and fluttered every time Mr. Dennis blurped out a low bass note. Clara said it was like being in a terrific tuba typhoon (whatever that means). Papa plays tuba too and says it takes a lot of hot air to play. Miss Adleyn says that Papa has plenty of that to go around.
Love,
the "Flattsie Sisters"