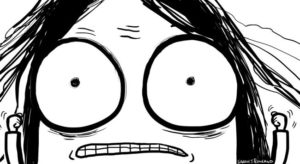 DO YOU THINK IT MAY BE THE PAIN MEDICATION??
(Exhausting experience from my shoulder surgery October 19, 2015
PREVIOUSLY UNDERSTOOD PURPOSE OF POST-SURGICAL RECOVERY SLEEP:
Rest, deep slumber and rejuvenating sleep
NEWLY UNDERSTOOD REALITY OF POST-SURGICAL RECOVERY SLEEP:
9pm. Looking forward to a restful sleep in a recliner in my own bedroom.
9:11pm Overnight visitor Jiggabug (Janie) wants to see where the doctor put a boo boo on PeePop's shoulder. Stop preparing for sleep. Remove shirt so said boo boo can be observed and commented upon.
9:33pm arrangement of Adleyn's two millioner kroner Norva-Nordisk torso omorganisering apparat (torso rearranging engineer apparatus). Place CPAP machine in optimal position. Arrange footstool with cool blanket to keep legs from sticking to leather and warm blanket to pull over body. Set up TV tray with needed accessories (flashlight, ice water, cell phone, etc.) at left. Take pain medication with water. Put on CPAP mask. Arrange helpful shoulder sling on right side. This is akin to sewing a large black possum to your side, and as about as comfortable. Develop the need to pee. Get up, unhook, do task, return and repeat process of arrangement.
10:12pm. Close eyes and drift off to sleep. Drug-assisted dream sequence starts: I have wholly misunderstood the purpose of post-surgical sleep. My new understanding reveals that it is actual a nightly repeat of the surgical nightmare until complete. New surgery is done each night in the sequence. Garage doors are opened to my body where a front-end loader removes objects of impediment to operations (like a 1955 Chrysler). Possum likes gizzards. I realize with horror that I have failed to check item 367(a) on page 128 of the 5 pound medical responsibility release package and that I still HAVE my gizzard. Hoping this won't be discovered (by the Worldwide Council on Confusion in government paperwork (or by possum). First incision made with glove-like banana space pods. No pain but not much fun. Hoping the next night's surgery will be quieter. Several hours of poking, prodding and removal of unnecessary bodily parts ensue. I wake up screaming. Actual elapsed time? 12 minutes. I close my eyes again for sleep and another three days worth of exciting surgery dream. More of same. Actual elapsed time. 22 minutes. Left leg is now numb, my cool covers are hot and my hot covers are cool. CPAP machine creating new melodies. Right leg is restless and has left the area, probably to find more leg at a neighborhood bar. I finally make it to 10pm. No sleep on the horizon but it is now 11:51. Should I try to read for awhile? Go for a walk? Listen to every dog in the neighborhood bark if I step out of my garage? Or go looking for my right leg?
Maybe it's the pain medication?