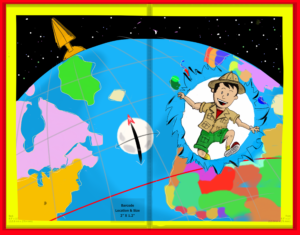 "Petey seeks adventure; it's deep down in his bones. He gets bored while chasing pirates, but loves the great unknown." This quote apply describes my grandson Pete who is the inspiration for the Professor Petey character and star of two fun books – The Amazing Adventures of Professor Petey, and the upcoming The World (According to Professor Petey). The idea began to form when his confidence at age four prompted him to announce from the back seat – "Papa. I am MUCH smarter than you!"
At age five he was, in his mind, an expert on most any subject and would promptly inform you "Actually, that's not correct).
Fortunate to have a Marine Biologist mother who fosters many educational opportunities and a father who is the Master of a huge Navy ship, Petey has been from Austin to Boston to Honolulu. He has been to Guam where he earned his junior deep ocean Scuba quals and explored the Galapagos Islands. In fact, he got into trouble at his elementary school in Texas when he was absent for the unit on volcanos. The reason he missed? At the time, he was inside a volcano in Hawaii!
He is a non-stoppable quoter of facts and interested in so many things that he is hard to keep up with. His alter-ego Professor Petey has grown into a fun caricature of a rambunctious kid who wants to see and do everything. His sense of adventure is reminiscent of the wild abandon of a Calvin and Hobbs type character. He seeks adventure and can't wait to tell you about it. After all, he has chattered with ancient skeletons in the catacombs of Rome, given lectures to a ten-foot Polar Bear and taught a grumpy crocodile the proper way to smile!
Librarians are excited about the upcoming publication of The World (According to Professor Petey) because they say it makes geography fun, it broadens the student's horizons, the rhyming draws the kids in and the illustrations are so colorful and fun.
Pick up a copy for your child or grandchild as soon as it rolls off the presses. While you're at it, get one for yourself – to read under the covers late at night with cookies and a flashlight! Go ahead, be a kid again, and experience The World (according to Professor Petey).
This new book by author and illustrator Stephen Scott will be available on Amazon, the Kudzu King website www.thekudzuking.com, and from the trunk of his car!