I love homemade biscuits but I am often disappointed. You see, I used to be treated to the most fantastic biscuits on the planet, and nothing has yet to match them.
Growing up in south Alabama in the 40s and 50s was a rich experience. Although poor, we were blessed with enough food and a roof over our heads, many friends and a perfect little community to shape us into good upstanding adults. Fairhope has always been a unique little village – part agricultural and part artist colony. My mother came over on the bay steamer in 1926, long before there was a road from Mobile. It wasn't always faux-quaint and cutesy-pie as it is now. We used to have McKean's Hardware store, Silver Hill Feed and Seed, the Pinequat Shop, Central Restaurant and Pennington's Fish Market. Those stores have long been replaced by Lexus dealers, high-end boutiques and ubiquitous overly cute shops with names like "Ye Olde This" and "Old Bay That." I'm not complaining too much as the new buildings are being done in the style and spirit of the old Fairhope and I'll have to admit that many of the places we loved were a little on the shopworn side.
Fairhope was pretty much a live-and-let-live, laid-back and somewhat innocent place. The movie "Porky's Revenge" tends to remind me of how naïve we were as kids back then. Those were simpler times and not so hectic as today. For example, even though our family had enough money for shoes, I didn't wear any – rain or shine – until the fourth grade. Lots of farm kids did the same and no one felt that we should be reported to child services. In fact, I don't think they even had such a thing back then.
In the late fifties, our family kind of hung together with a local black family. Miss Rose was my mother's friend and had thirteen children. They "worked" for us, but the truth was that we didn't have any more money than they did. It was more a mutual-admiration society and survival mechanism for two widows who were struggling to keep up.
We handed clothes back and forth and played together. I really liked and looked up to Glover, the oldest boy. He used to call me his "Little Nigger" and although it confused me, I kind of liked it because I knew he cared about me. Also I remember going occasionally on Sundays to a Negro church on a dirt road way out near Silver Hill. The service was interminably long for a seven year old, and they passed the plate every fifteen minutes. But, I knew if I sat still long enough my patience would be rewarded with the best fried chicken known to man!
For some reason Miss Rose took a shine to me and when I went off to college at Auburn, she cried the day I left. Mother would always tell me that she was asking about me. Every so often, I would get a letter from her and would be very excited to get it. Thoughts of Miss Rose always brought me a cozy feeling.
One time Mother told me that Rose wanted to have me out for a home-cooked meal as she was worried I wasn't getting enough to eat at school. Actually, I had the opposite problem. I left for school weighing 160 and came home at Christmas break weighing a whopping 195! As I waddled into the yard, my mother said "Stevie… is that you??" However, I was not about to turn down a fried chicken dinner from my Rose. I was excited the first time I drove out to her place. You had to drive east out into the country from Montrose, turn onto several county roads, then down a dirt road and finally stop and park under some huge live oaks and walk the path to her house – about 300 yards. She lived in a Jim Walter type pre-fabricated house that was never quite finished and only had openings where the windows should be. Rolled up canvas tarps were let down at night during cold weather. The only hazard attending these cherished invitations was those bone-crushing hugs of hers. She could just about squeeze your gizzard out. But I didn't mind as I felt so loved and comforted in her presence.
The meal always consisted of fried chicken (which was "clucking" around in the well-swept dirt yard that morning), mashed potatoes or dressing, green beans from the garden, milk or buttermilk, biscuits and butter, iced tea and some kind of pie. She used to churn her own butter until her hands got arthritic. But the highlight of the meal was the biscuits. Indescribable biscuits! They were golden brown on the outside and so light and fluffy on the inside they were almost ethereal. You had the feeling that if you held one in your hand and let go of it, it would gently float to the ceiling. Since I loved to cook, even at that age, I would beg her to tell me how to make them. She would just say "Dem's magic biscuits" and laugh and laugh. It was a secret she said, but would let me know when the time was right. She loved to tease me about the biscuits and I loved the teasing.
On the "great revelation day" she announced. "I ain't gettin' no younger and since my young-uns ain't interested, I guess it's 'bout time I passed it on down to you, since you is one of my young-uns by choice." I was so excited and nervous all I could do was stutter "what do I do?" Rose told me that you had to use plain flour, lard (pig fat), Rumford Baking powder, salt and ice water. For some reason, she used a dinner knife to knead the dough. She told me that was kind of the way most folks she knew did it, but just everyone didn't have a "magic bowl." Her bowl was an old wooden one carved out of a single piece of wood and not remarkable in appearance. When I asked her how old it was, she said "near bout eighty years I guess, and been passed down in the fambly." I don't know if that was a bit of an exaggeration, but it looked old enough. Since that was around 1963, it would have meant the bowl was made around 1883. "It weren't nothin' special, except for makin' "magic biscuits" she said.
The last time I saw her, she let me make the biscuits by myself, under her watchful eye, of course. I was guided by various grunts and grimaces, nods or approving smiles. Into the oven they went – a cast iron wood-fired cooking stove. The primitive stove was not an issue for me because when I was five, my mother taught me how to make muffins in a similar monstrosity. Rose didn't say much about my results but her grin gave away her great pride in my effort.
One day I got the sad news that my other mother Rose has passed on. I had gotten the word too late to go to her funeral and I was quite upset. Mother comforted me by saying that the next time I came home, we'd go to her grave and place some flowers on it. I said, I want to lay a biscuit on it… a magic biscuit, that I made myself. Somehow, she understood.
Rose's family, who had scattered to the four corners of the country, came back for her service. My childhood friend Glover came home from Cincinnati. Mother told me that there was a knock on the door and when she opened it, there was Glover, holding out a Greer's Grocery paper bag. He seemed a little awkward and thrust the bag toward her, squinting and turning to the side to avoid revealing a welling tear. "My Momma said she wanted Steve to have this," he said. Mother opened the bag to find Rose's "magic biscuit bowl."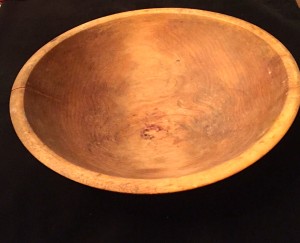 Rose and I had a special kind of love – one that transcended age, race, and station in life and she is forever in my heart. The bowl is now about 132 years old and I often take it down and have sweet memories of my "other Momma." Maybe I'll just whip up a batch of magic biscuits soon.