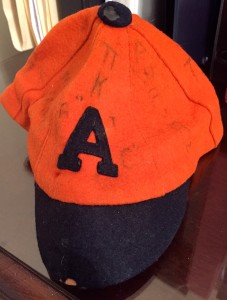 One wintry day two years ago my cell phone rang. Here is a synopsis of the conversation:
Man on the other end: "You don't know me from Adam, but I stole your Rat Hat (freshman beanie) at Auburn in the Fall of 1961."
Me: You did?
Him: Yep…..
Him: 'Bin bothering me.
Me: I can imagine.
Him: I'd like to return it……..  in person.
Me: You don't have to do that.
Him: Well, I kinda want to… if that's okay.
So, a few weeks later on a cold and rainy saturday morning, he drove down from Dunwoody, Georgia to make amends.
While he was on his way, I jumped into the shower, and this "pome" just come up upon me!
THE PECULIAR CASE OF THE PURLOINED BEANIE
This is the story of a hat gone astray,
And perpetrated by me, one Alton Conway.
I was a freshman at Auburn, in 1961,
I was quite new on campus, and having much fun.
Then freshmen were required, to recite Auburn's creed,
And to purchase a "rat" hat – another firm need.
As a freshman at Auburn, I was full of vigor and vim,
And one day it came to me, as a bit of a whim.
That I shouldn't spend, my own personal cash,
To buy such a hat, when I could make a mad dash.
And snatch one right off, of some poor guy's head,
And not have to spend, my own money instead.
Now who could ever be such a rat,
As to reach out and filch another guy's hat?
I was quite proud of myself, and my amazing stealth,
But the hat was soon forgotten, and placed on a shelf.
It languished for years, in a dark and dim loft
But it's ghostly specter, visited quite oft.
Though quite proud of myself, at the time of the stealing,
It's memory often brought, a morose sort of feeling.
And I wondered for years, about the original owner,
And how I might atone, for this juvenile boner.
So I started a quest – I did it my way,
And found the poor man, in Columbus, G. A.
But in spite of the trauma, of losing his hat,
He had become successful, and was sitting quite pat.
The reunion between the hat, and an old man's head,
T'was a bitter sweet story, which for years may be read.
The owner was grateful, that the gaff'd been un-botched
And they celebrated the occasion, with a fine bottle of scotch!
He arrived and handed over the item of interest (only 53 or so years late), and we had a most wonderful visit.
A week or so ago, I got another call from him, letting me know he was going to meet with some friends of his and related the story.
Hope you enjoy his email:
Steve,
Having lunch with a couple of old Auburn buddies tomorrow and am in hopes that they will enjoy "the rest of the story". Of all the guys from whom I could have pilfered a rat hat you had to be the magic one. It is times like this that one feels halfway like a Presbyterian. Wanting to believe for fifty years that I abused some football lineman out of his hat turns out to be comical. It is hard to imagine the dull and uninspiring response had I returned the hat to one of those big but slow sports who might have offered only to a thanks or a belated butt whippin. As fate has it I get this multi talented cool dude that writes a poem about the fateful event giving it an aura of posterical proportions. You made it one of those rare times in life when our mind is splashed with such an indelible event that it will carry through time and the fog of old age.
Steve, thanks for being Steve. It sure makes things interesting.
Attached is the latest chapter. My own hat that is conscience free.
Again, thanks a bunch,
AC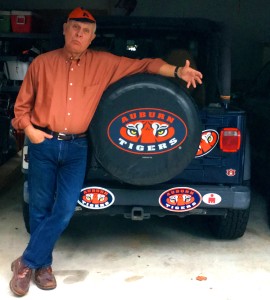 And so ends a very strange tale of mystery, intrigue, devious behavior and redemption.